How Competency Management Leads To High Performance Organizations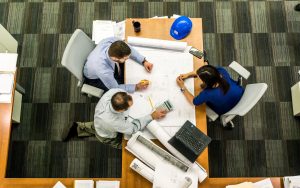 How do organizations succeed? Underneath layers and layers of business strategy, data analytics and goal development, what is it that defines the kind of work an organization can deliver ultimately? It is indeed the core competencies of an organization's employees that enhance its capabilities. Competency management is the key to success in the modern business context- simply put; it is the management of those abilities, professional skills and know-how that make an employee a veritable asset for the organization.
Although competencies are sometimes difficult and time-consuming to map, the result is worth the effort, as the company then benefits from the best combination of competencies chosen. Here's how competency management can create high performance organizations-
Strategy for movement and growth
Once certain competency criteria and standards have been put in place at an organization, employees can benefit from being trained accordingly. The idea of competency management is to improve movement and mobility in the organization, and to help employees develop skills that formal development may not be able to.
Competency based business goals
It is very important for a company wanting to perform with excellence, to identify and chalk out its business goals based on the pre-defined competencies of its workforce. If such goals can be compared and worked towards, keeping competencies in mind, organizational strategy will be productive, and yield better results.
Enhanced talent acquisition and retention
Competency management is a useful task to determine the way an employee is expected to perform, the duties and responsibilities he or she has, and how those must be fulfilled. This also makes it easy for the management to recruit people according to expected and desired competencies and retain them as well.
Efficient talent assessment
Competency management is largely helpful in aiding the talent planning process of an organization.  By assessing the competencies already possessed by its employees, the organization can understand which competencies need to be developed further, and can hire more talent if needed, accordingly. Studying data on employee performance based on tasks and skills demonstrated, gives a good idea to management about the competencies.
Productive talent potential and pipelines
When an organization enables continuous and automated management of competencies, the system determines frequently when an employee is fit to move into the higher level of work. Thus, the pipeline becomes more active, and the energy in the organization remains high due to timely circulation and movement.
Learning and growth-oriented processes
Among the many benefits of the automation of competency management, lays its focus on purely developmental and learning-enriched operational processes. Competency management seeks out training processes that fail to add value to the organization and eliminate these processes. It identifies areas of weakness, helps in finding solutions to strengthen the organization, and simplifies managerial tasks greatly by pointing out and building up on core strengths.
Identifying key competencies and developing these for organizational growth is what comprises good competency management. Building the employees' capabilities leads to effective management of overall competency, and thus, to achieving business targets and organizational success.
Summary
Competency management is an essential factor in spelling success for modern-day businesses. From identifying and working towards business goals to acquiring the best talent, properly assessing the skill sets and eliminating irrelevant or outdated training processes, managing overall competency in an organization indeed leads to target achievement and consequent success.
Reshali Balasubramaniam
Head of HR, HR Counselor and adviser at https://jobpal.lk and EFutureTech Systems. Submit your resume online and be contacted by prospective employers.