Leadership Theories- Rightful Application at the Workplace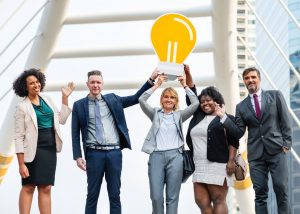 Historically, leaders have been compelling figures who have captured the vigor, foresight and power of the cause that they support. Throughout the ages – from Alexander the Great to Martin Luther King – the title of a true leader is only bequeathed to the illustrious few who have the aptitude to live up to the innumerable demands of their position. The modern-day leaders must hence follow the paths taken by great leaders in the past and become influential setters of benchmarks, who stimulate and impact workers to stick to the plan and more importantly the leader's vision. Here is a complete guide on notable leadership theories and how they can be rightfully applied at any workplace –
The Theory of Leadership Traits
The Theory of Leadership Traits is a philosophy based around the general nature traits of a leader. Key qualities that all leaders must have include –
Ascendency over workers
Power to face conflicting situations with assertiveness
Using confidence over aggression
Decision-making
Flexibility to change with the situation
Leading by example
The only downside to this theory is that particular situations may require qualities such as endurance as opposed to the aforementioned quality of adaptability. Are leaders born or made? It has to be a balanced mixture of both.
The Behavioral Theory of Leadership
In this leadership theory, the focus is on the nature of behavior that the leader demonstrates in specific situations that outline the leadership style. Broadly, there are three key types of leadership behaviors –
Leadership of Autocracy – This involves leaders who are independently accountable for all key decisions. They essentially do not refer to their co-workers or unit members, making this style the most effective when it comes to fast decision making. At its worst, autocracy can transform into a more dictatorial style of management.
Democratic Leadership – This includes leaders who cooperate with their workers to take decisions that take in every worker's opinion. This type of leadership is the most prevalent in the modern corporate world, but susceptible to let downs when a unit's members are incompatible.
Laissez-faire Leadership – It is a style of leadership where the leader hands much of the control and decision making to his or her unit. This style however, is only applicable if the team is experienced, advanced, and capable enough to work in unity.
The Contingency Theory of Leadership
The Contingency Theory of Leadership appreciates that there is no common attribute that succeeds for all situations. In its place, the theory suggests that there are select qualities well-matched for particular situations to achieve positive results. Leaders must be prepared for all types of situations they are likely to face at the workplace.
Even though there is no ideal leadership style that unreservedly works well in all possible situations, all aspiring leaders must draw positives from these major leadership theories and establish a personal theory for their benefit and the benefit of the organization at large. The key is to be open to all possibilities and prepare for every situation beforehand.
Summary
There are a number of leadership theories based on the trends leaders have set in the past. The behavioral theory, the contingency theory, and such other theories when put to practice in the workplace in a proper manner as per the organizational and team requirement, can help the organization deal with all possible situations.
Reshali Balasubramaniam
Head of HR, HR Counselor and adviser at https://jobpal.lk and EFutureTech Systems. Submit your resume online and be contacted by prospective employers.